Categories:
We can all agree that the learning process and workforce requirements look very different in 2020, compared to previous years. Home office and virtual classes have been taking over, and some academic institutions have been struggling to keep up with the current needs of their students, faculty members and their alumni community to be inline with the competing needs of the workforce. 
Innovative and leading business schools are not only expected to offer a smooth and accelerated digital transformation process, but they are also expected to offer a great user experience and updated content to all their educational community. 
According to the Future of Jobs Report 2020, published by the World Economic Forum (WEF) in October 2020, the pace of technology adoption is "expected to remain unabated and may accelerate in some areas", such as artificial intelligence and the needs of a personalized experience.  
The WEF report also highlights that skills gaps continue to be high, as in-demand skills across jobs change in the next five years. The top skills and skill groups which employers see as rising in prominence in the lead up to 2025 include critical thinking and analysis as well as problem-solving, and skills in self-management such as active learning, resilience, stress tolerance and flexibility. On average, companies estimate that around 40% of workers will require reskilling of six months or less and 94% of business leaders report that they expect employees to pick up new skills on the job, a sharp uptake from 65% in 2018.
Currently, some business schools are finding it challenging to build engagement with students, staff and alumni and their traditional online channels and tools are not robust enough to build a deep sense of community within their network online.
Also, the content being offered is often outdated, across disparate sources, few formats and hard to consume: students are used to consuming quick podcast episodes, interesting articles, Ted Talks and best seller summaries, academic resources and having all these formats across all subject matters would be highly engaging for the business school academic and professional communities. 
To address these challenges, after over a decade of working in the educational technology sector across almost 50 countries, ODILO has determined that to offer the best experience for content access as well as achieve a spirit of unlimited learning, it is necessary to put the user at the heart of technology and not adopt a "one size fits all" approach, as each individual learns differently.
ODILO has, therefore, architected a new category for business schools, so-called the unlimited learning ecosystem, which fully integrates learning technologies, content, learning experiences and customised services in a clean, unified manner. Here students get the needed support, whether it is classroom-related, extracurricular or academically complementary, to prepare them for their careers; while also teachers, staff and alumni can get extra support to support their continuous teaching and learning needs and develop habits of lifelong learning.
ODILO is currently working with Vodafone, Nestle, HP and other top players and innovators in the corporate and business school sectors and has been able to deliver personalized learning paths, virtual courses, interview preparations, soft skills training, career development and even deliver content on important topics such as mental health, wellness and recreational needs for today's professionals.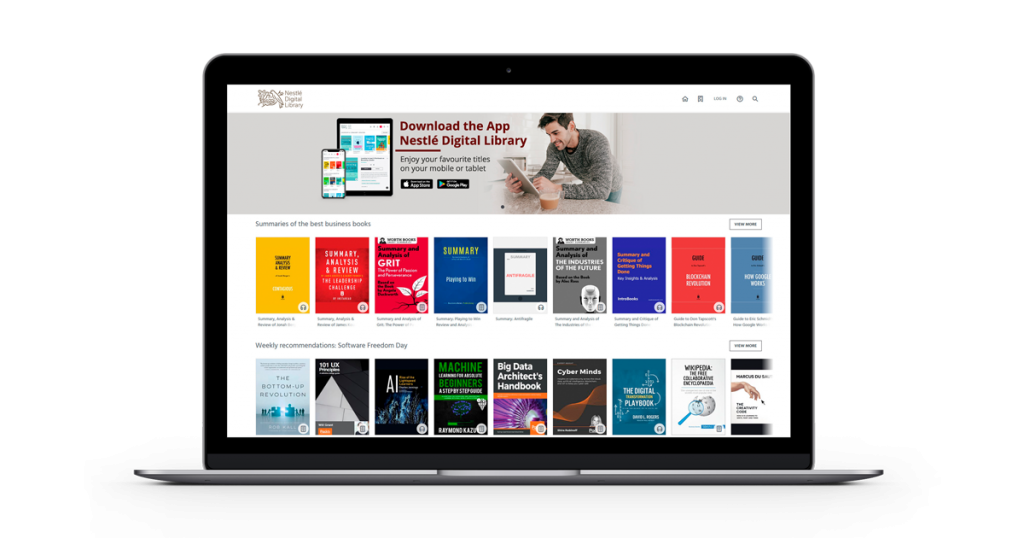 In addition, ODILO has also been able to offer content from the best publishers and content providers in the world, such as Wiley, Oxford University Press, Kogan Page, Harvard Business, Hachette, MacMillan, Harper Collins, Simon & Schuster and more. 
In summary, an unlimited learning ecosystem for your business school will allow you to offer: 
A highly personalized experience for all devices, web, and mobile apps. 

Intelligent content personalization to support each user's needs and adapt to their busy lifestyles. 

Create on-demand access to 3M+ multimedia titles from the best publishers for academic, professional skills, soft skills, technical skill development and recreational learning purposes

Run virtual classes online

Integrate personalized learning clubs around any subject, to encourage networking and collaboration across groups.

Offer certified, personalized learning paths to encourage fulfilment of key knowledge gaps with tailored-assisted support
If you would like to know more about how you can build your own unlimited learning ecosystem, tailored to your entire educational community, please contact us today for a personalized demo.