EURead was founded in 2000 and has more than 30 organizations from 21 European countries, working under the umbrella of the national authorities, involving all parts of society including political decision-makers, associations, labor organizations, churches, schools, kindergartens, celebrities, and companies.
The aim of EURead is to exchange knowledge, experience, and concepts, as well as to jointly develop new strategies for the promotion of reading. Meetings of the association take place on a regular basis. Its activities include systematic lobbying for the promotion of reading among politicians as well as in the business world. The aim of EURead is to raise awareness of the importance of the promotion of reading at national and European Union levels.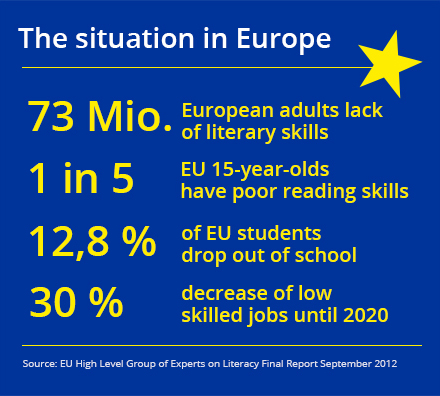 ODILO has been selected as a member because of our mission's alignment with EURead goals: to work in partnership with government and companies worldwide to achieve UNESCO's 2030 Sustainable Development Goal number 4 and number 10: to bring quality education all over the world & to help reduce inequalities by providing everyone with access to educational content everywhere. 
We are proud to be supported by the European Commission to improve literacy across Europe and to have founded the ODILO Young Reader Awards – helping countries and schools foster and find the best young readers across their nation. Our EUReads membership represents one step further to achieve equity in education in Europe.  
ODILO participated in this year's annual general meeting of EURead, which took place on 23-25 October in Brussels.
Our CCO, Tiago Mateus, presented: "Intelligent Reading and Writing Solutions at Scale: Case Study with an EU Country", sharing our passion to democratize access to high-quality education, improving literacy levels and critical thinking skills, promoting lifelong learning and developing powerful insights on learners.
ODILO today collaborates with over 5,000 publishers worldwide to offer over 2M titles of high-quality ebooks, audiobooks, video, magazines, scorm, and others, across over 40 languages.
We currently support over 140M of readers in 43 countries and are supporting nationwide reading and writing programs in both developed and emerging economies.